News
Alumni Interview – Raquel Méndez Villamizar
CERES cohort 2013
PhD at University of Amsterdam (2018, promotor Prof. C.G. Koonings)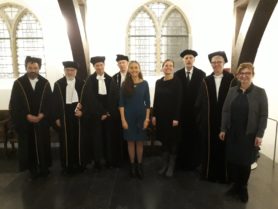 What is your current professional status and area of expertise?
I'm the Social Work Program director at Universidad Industrial de Santander (UIS) in Bucaramanga – Colombia. I also coordinate the Social Intervention Master there.
What was the topic of your PhD? 
Gender relations in the extractives context of gold and oil in Colombia.
When did you attend the CERES PhD training? 
I attended the CERES PhD training from January until July 2013.
Why did you decide to participate in this training? 
My professors suggested me to participate and I thought it was a very good idea for preparing for my PhD.
How did the CERES training course contribute to the development of your PhD proposal and research?
It was important in helping me design my proposal from an epistemological, theoretical and methodological point of view.
Apart from academic skills, what else did you gain from the CERES experience?
I improved my English level especially through my interaction with other students. It was also an excellent opportunity to learn about different cultures and geographic contexts.
Has the CERES course contributed to your current occupation?
Not exactly, keeping in mind the fact that I already had my position at the University before starting the course. It did contribute, however, to the achievement of my graduation as a PhD in January and that gave me the opportunity to ascend and be part of the formulation of a Social Science PhD program in my country and region.
What is the most valuable advice you would like to share with future students who will participate in the CERES training?
This is a rewarding and formative experience that allows you to improve the quality of your research proposal. Seize the debates, questions and comments of your peers and professors about your ideas. I'm pretty sure this will make your proposal more solid.