News
Alumni Interview – Mercy Afua Adutwumwaa Derkyi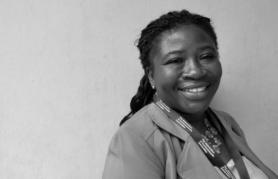 What is your current professional status and area of expertise within International Development? 
MD: I am a Lecturer at the Department of Forest Science, School of Natural Resources and the Acting Head, Centre for Climate Change and Gender Studies, University of Energy and Natural Resources. My professional specialities are in natural resource and environmental governance, conflict management, gender, climate change, agroforestry, livelihoods and social research methods.
What was the topic of your PhD? 
MD: My PhD topic was 'Fighting over forest: interactive governance of conflicts over forest and tree resources in Ghana's high forest zone'.
When did you attend the CERES PhD training?
MD: I attended the CERES PhD training in March 2008 when I had a scholarship from Tropenbos International through Tropenbos International Ghana under the 'Governance for sustainable forest-related livelihoods programme'.
Why did you decide to participate in this training?
MD: As part of my PhD trajectories at the University of Amsterdam, my promoter Prof. Ton Dietz and Co-promoter Dr Mirjam Ros-Tonen recommended CERES PhD to my colleague Dr Thomas Insaidoo and me. We were both part of the Tropenbos International scholarship and thought that participating in the CERES training course would greatly help our PhD trajectories.
How did the CERES training course contribute to the development of your PhD proposal and research objectives? 
MD: CERES broadened my research horizon and gave me a positive outlook towards research. It was during CERES that I had the opportunity to understand the trajectory within the PhD field. CERES among other things enhanced my understanding of research designs; qualitative and quantitative research; reviewing of literature, etc. The CERES experience helped me situate my work within the different theoretical frameworks. My understanding of concepts was enhanced as it gave me the confidence to delve deeper into the forest governance issues of the study. My presentation skills were also enhanced.  As stated in the acknowledgement section of my PhD thesis 'A trip to the Netherlands to attend the CERES PhD training and to meet my supervisors took away any remaining uncertainties I had and turned my dreams to reality' [Derkyi, 2012: xv]
Apart from academic skills, what else did you gain from the CERES experience? 
MD: CERES offered me the opportunity to network and make friends from across the globe, some of whom I am still in touch with. The special travelling opportunity CERES gave me is worth mentioning such as the tutorial session at De Glind and the opportunity to enhance my critical and analytical skills through the FOUR roles in the tutorials – being a Speaker, Reader, Chair and Auditor.
What is the most valuable advice you would like to share with future students who will participate in the CERES training? 
MD: CERES has wide sets of training courses and sometimes one becomes so excited to attend all. Thus I do encourage future students to study the programme carefully, select specific topics that will help them develop their proposal and also conduct their research work within the timeframe. They should also be flexible enough to adapt and learn from people from different social and academic backgrounds. During presentations, students should be on the lookout to identify other researchers who they share similar interest with for future collaborations. Finally, they should use the opportunity to make friends, network and establish post-doctoral collaborations.
Having this platform to reflect on CERES contributions to my professional and social development, I wish to have the space to say a very big Thanks to all who made this possible for me – Tropenbos International, my promoters and all friends I met at CERES and the excellent professors.