News
Alumni interview – Johny Stephen
What do you consider to be your area of expertise?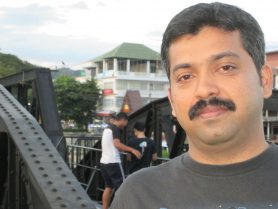 JS:  My area of expertise and interests are ever changing. I am a Marine Biologist by training. That is the only conventional discipline I am able to relate to. I have since explored other disciplines such as fisheries management and social sciences; I finally ended doing a PhD in Political Geography. My current interest is in post structuralism. I am interested in exploring various dimensions of natural resource governance from a post structural lens.
What is your current professional status?
JS: I am currently an Assistant Professor at the Tata Institute of Social Sciences (TISS) in Hyderabad, India. I am also the faculty coordinator for the MA programme in Natural Resources and Governance at TISS, Hyderabad.
When did you participate in the CERES PhD training?
JS: I followed the course in April 2011.
Why did you decide to apply for the CERES training?
JS:  I have had some work and research experience prior to my joining the PhD. However the idea to join the CERE came from my supervisor ( Maarten Bavinck, the current director of CERES).  In consultation with him, I felt that I needed to join the CERES training to get the basics right before starting the PhD.
What is/was the topic of your PhD?
My thesis was titled  " FISHING FOR SPACE-Socio-spatial relations of Indian trawl fishers in the Palk Bay, South Asia, in the context of trans-boundary fishing" my PhD research explored the various socio-spatial relations of the Indian trawl fishers with regard to their continued access into present day Sri Lankan waters. I bring spatial studies to the forefront of understanding fishing practices in India. Questions of identity, citizenship, economics and geo-politics in the context of the transboundary resource conflict was explored in my research.
Did or do you keep in touch with your fellow students?
JS: Yes, we did, and we are still in touch with many of my CERES fellow students. We had a very friendly group. Social media such as Facebook was very useful in keeping in touch with many of our fellow students.
What did you gain from the CERES experience?
JS: I gained a lot from the CERES training. I felt that it essentially formed the very foundation for my PhD research. Since my fellow students were all in the same stages of our PhD, it was a good, collective learning experience. It basically helped us to frame the research objectives and helped to structure our research plans.
Has the CERES course contributed to your current occupation?
JS: Yes, very much. With regards to research, I use various techniques that were taught to us at the Ceres programme. I also teach various research methodologies that I learned at CERES to my Bachelors and Master students.
One final question: what would you like to ask the next alumnus who will be interviewed in the newsletter coming up next month?
JS: I am keen to know, if not for CERES, what courses would they have chosen?