News
Profile of a CERES Institution: UNESCO-IHE
Each month, CERES will be focusing on one of its partner institutions and profile its current work and connection with CERES. This month we focus on the UNESCO Institute for Water Education in Delft.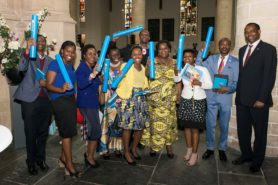 Since its founding in 1957, the UNESCO-IHE has provided graduate education to over 15,000 students from over 162 countries in collaboration with partner universities. UNESCO-IHE carries out educational, research and capacity development activities that complement each other in the broader fields of water engineering, water management, environment, sanitation and governance. Indeed as stated on its website,  UNESCO-IHE 'envisions a world in which people manage their water and environmental resources in a sustainable manner, and in which all sectors of society, particularly the poor, can enjoy the benefits of basic services'. What is encouraging from the institute also is the fact that the majority of the students it has supported have come from developing countries.

The central focus of UNESCO-IHE's strategic plan recognizes that addressing global challenges such as poverty, climate change and public health requires a strong foundation of knowledge to improve water management practices. This is reflected in their three core activities:

Education & Training
UNESCO-IHE offers both degree programmes (MSc and PhD levels) and non-degree programmes (short courses, online courses and tailor-made training) for engineers, scientists and professionals from various disciplines, working in the water, environment and infrastructure sectors. The Institute is implementing its educational activities increasingly with partner institutes worldwide, making water education more accessible and affordable for a growing number of students.

Research & Innovation
UNESCO-IHE's research activities concentrate on six main research themes and contribute to the knowledge base concerning the water environment, at the same time complementing its education and capacity development activities. Significant parts of the research programme are done via PhD research (the programme is implemented in cooperation with partner universities in the Netherla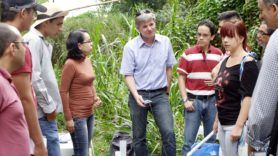 nds such as TU Delft and Wageningen University), MSc thesis research and post-doctoral research programmes. The Graduate School in Water and Development provides a stimulating research environment, especially for the almost 140 PhD fellows active at the Institute, of which 15 successfully defended their thesis last year.


Capacity Development
The Institute engages in institutional strengthening projects and provides advisory and consultancy services to knowledge institutes, water sector organizations, knowledge networks and UNESCO memb
er states. Through these operations, the Institute increases its global impact and helps to build sustainable organizations that are equipped to manage water resources effectively and deliver water services sustainably. The Institute also has a policy forum function and acts as an intermediary between science and policy making.
CERES looks forward to continuing to work with UNESCO-IHE's aims as the institute continues to send students into the program and develop the necessary skills within water management and development.